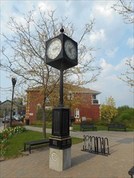 The North Grenville Community Fund is a public, not-for-profit organization created by and for the people of North Grenville. It connects donors who care with causes that matter and provides advice on how to work together effectively to relive issues facing the community.
The Fund does not compete with other fundraising efforts; rather, it provides a vehicle to make your charitable dollars grow.
MISSION
To enable, advocate, improve and inspire philanthropy in North Grenville
VISION
To be seen as a valued philanthropic partner contributing to the community of North Grenville – Now and Forever
OUR KEY INITIATIVES
Established in 1996 with an initial contribution of $5000 from Family Focus of Leeds & Grenville.
To date, 14 funds have been established and another 4 are in progress.
Over $100,000 in gifts and earnings to date.
There are 47 local charities along with "qualified donees" eligible to receive funding in the North Grenville community.
OUR VALUES
We want the community of North Grenville to see the NGCF as:
Personalized and community based philanthropy
Working with donors to build endowment funds
Contributing to a wide range of local organizations & initiative
​Bringing community partners together